The Housing Market is to remain open during lockdown!
I live in England, can I move home?
Yes, the government's official guidance says you can still move home and estate agents have been told they can continue to work.
In the latest guidance it says that carrying out activities related to buying, selling, letting or renting a residential property are reasonable excuses to leave home.
But the most important thing is that you follow the guidance to help everyone stay safe, and throughout last year agents changed how they operate to keep to these safety guidelines.
If you are already in the process of moving, people outside your household or support bubble should not help you move home unless it's absolutely necessary.
You can read the latest guidance on how to view a property safely, here.
I live in Wales, can I move home?
In Wales, Tier 4 restrictions have been in place since 20th December. The latest advice is that you are able to move home if you cannot delay the moving date until after Tier 4 restrictions are lifted.
The official guidance in Wales strongly advises that virtual viewings are used wherever possible, though viewings of properties can take place during alert level 4, but mixing must be avoided during viewings.
High street estate agencies in Wales have been required to close to the public, but activities such as removals, property preparation, handover of keys, surveys and valuations can take place in line with the guidance on working in other people's homes.
Key things to consider are:
Use virtual viewings of properties where possible
Properties should be unoccupied when physical viewings take place
Follow government advice on social distancing during a viewing
The wearing of masks by all parties during a viewing
Practice good hand hygiene and 'touch free' viewings
Thoroughly clean properties before and after viewings
For more information on the latest official guidance for home-movers in Wales, click here.
I live in Scotland, can I move home?
The Scottish government has said that, whilst people can still "conduct activities in connection with moving home or the essential maintenance, purchase, sale, letting or rental of a residential property that you own or are responsible for", you are strongly advised to postpone at this time, if possible.
The advice goes on to say that home-movers should search for property online and do viewings virtually in the first instance and only physically view a property which "you most likely want to move into".
To read the latest official for Scottish home-movers, click here
Can I put my home on the market?
Yes, you can put your home on the market and look for properties to buy or rent. However, if you or any member of your household is showing symptoms of coronavirus or is self-isolating, then estate agents and potential buyers should not visit your property in person.
Estate agents can still visit to take photos of your property, but of course, they need to follow the appropriate safety guidance. As usual, you should also start to gather together the necessary documents to sell your home.
To help prevent the spread of infection, the government recommends that you carry out initial property searches online, and only visit a property in person when you are seriously considering making an offer on it.
If you're planning to buy a new-build property, you should contact the developer. You should be able to make an appointment to view the show home or visit the particular plot you are interested in purchasing.
Can I go on a property viewing?
Yes, if you're looking to move home, you can continue going to viewings during lockdown.
But you should if possible ask for a virtual viewing first. It'll reduce the number of viewings you have to go on, which will help minimise the spread of germs.
It could also save you time, because you'll have a better idea of whether a house is worth seeing or not.
When viewing a property in person, make sure you wear a face mask, avoid touching surfaces, and wash your hands or use sanitiser before and after.
There shouldn't be more than two households within the property at any one time, and viewings should only be arranged by appointment, so 'open houses' aren't happening at the moment.
If you're selling your home and are having interested buyers come around to have a look, open all the inside doors beforehand so they don't have to touch the door handles.
It's recommended that you're not in the property during the viewing, and that you disinfect all surfaces after.
See our full guide on how to view property safely, here.
How can I view property safely?
For more information on how to view property safely, and how you can follow the Covid safety guidance, click here.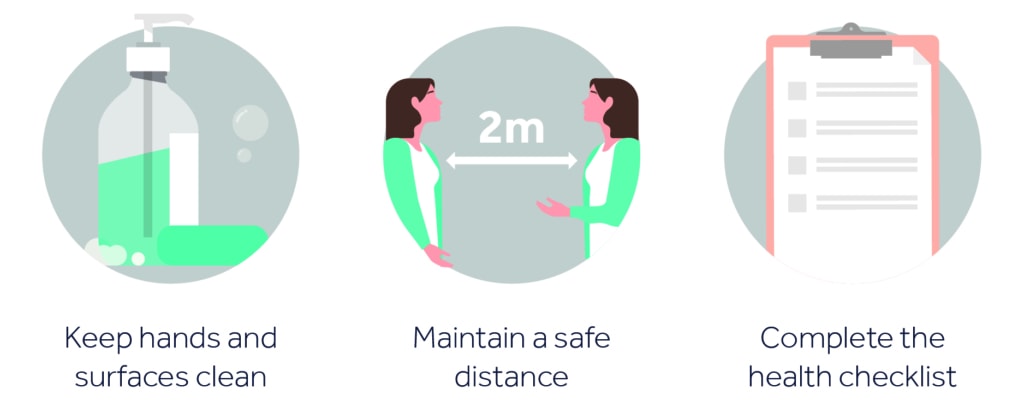 Protecting yourself and those in the property you're viewing
Whether it's on your way to a viewing, or once you get there, remember these three key pieces of advice from the government: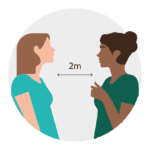 Maintain a 2m distance
from anyone you aren't living with wherever possible.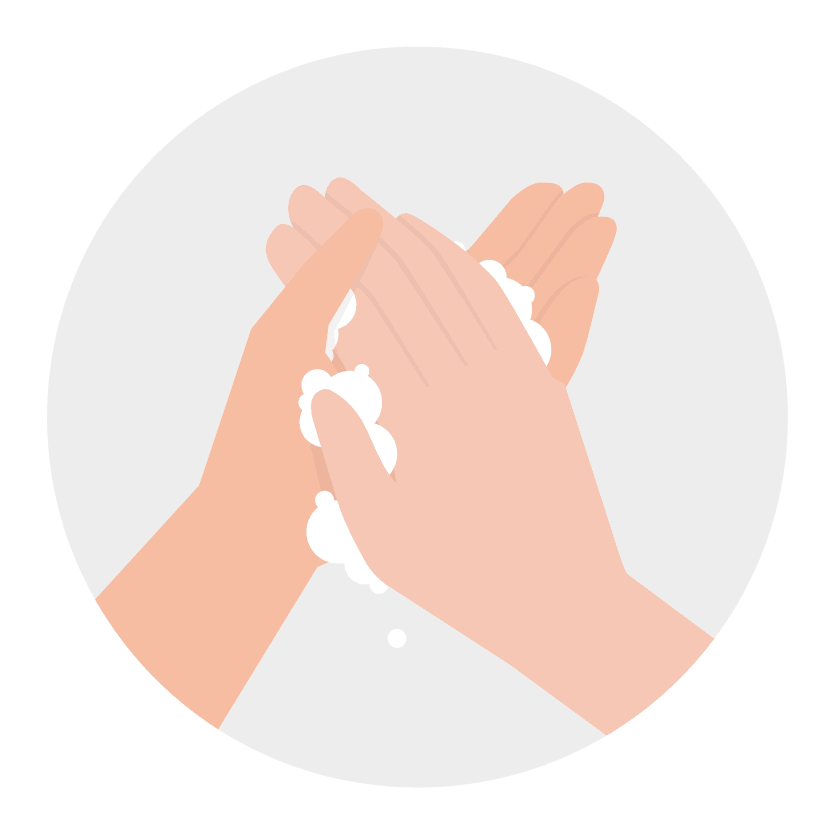 Wash your hands regularly (and thoroughly) and avoid touching your face
– this remains one of the most effective ways to help prevent the spread of coronavirus.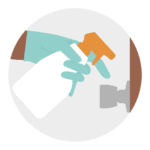 Clean surfaces regularly
– and minimise contact with those outside of your home, such as door handles.
Can I book a removals firm?
Yes, removals firms are still able to do their jobs, but again, providing that all parties follow the safety guidelines.
It's advised, however, that you do as much of the packing as you can yourself and give your belongings a quick spray or wipe-down with a disinfectant before they're handled by someone else.
When the removals team is around, do your best to maintain distance and wash your hands regularly. Unfortunately you won't be able to offer them refreshments – which of course they'll understand.
It's also recommended that you book your removals company as early as possible. In many areas they're very busy and it may be a challenge for you to find one available at a short notice.
I'm in the middle of buying a home, should I expect any delays during lockdown?
It's possible that in some areas the conveyancing process will be slower than usual right now.
This is because some solicitors and agents may be operating at limited capacity, or are very busy working through deals that have stacked up since last year.
If you're about to enter into a legally binding contract, you should discuss the possible implications if someone has to self-isolate or quarantine. Ask your legal representative if they can include provisions to manage these risks in the contracts.
If someone in your household – or the other party's – begins to show any Covid or flu-like symptoms just as you're about to complete, you should postpone things by a few weeks.
The government says we should all remain flexible in this sort of scenario, so it would be ideal if your contracts can reflect that.
I'm a renter, can I still move home?
Yes, renters can still look for properties and move homes.
Cleaners are also still allowed to carry out work in your home, so if you need to bring in a professional cleaner before the end of your tenancy, you're allowed to do so.
Renters should follow the same safety guidance that applies to buyers during this period, such as doing online viewings first, and you can find the official advice in full, here.
Can tradespeople come out to my home to carry out work?
The current rules do allow tradespeople to carry out work in your home, as long as they have no coronavirus symptoms and are following all the necessary safety guidance.
However, it's worthwhile making sure you've covered all bases to ensure you keep yourself, anyone else in your household, and the people carrying out the works, safe.
For example, ahead of the work starting you should ask:
Does anyone involved have symptoms of the virus?
Is there anyone with underlying health conditions in the property?
Are there any sick or elderly people living there who could be affected?
Could anyone entering the property impact on the health of anyone living in it?
Will anyone visiting, such as a surveyor or tradesperson, be affected by working in my home?
Will all the people working in the home be wearing the correct PPE (personal protective equipment)?
In addition, traders should not go to homes of anyone who is self-isolating or at risk from the virus.
However, if the work you are having done is not urgent, you may want to reschedule it for a more convenient time.
I'm in the middle of a renovation, can it continue?
Yes, renovation work can still continue during this lockdown period. Tradespeople are able to enter your home – providing all parties follow the Covid safety guidance.
If anyone in your household is self-isolating or is showing symptoms of the virus, all works should be rescheduled until it's safe to resume.
The same goes for any tradespeople due to be working in your home.
To help ensure that all parties remain as safe as possible during the renovation, you should:
Keep your distance from any visitors and avoid physical contact
Wash your hands regularly with soap and water for at least 20 seconds, or use hand sanitiser
Avoid touching your eyes, nose, and mouth with unwashed hands
Cover your cough or sneeze with a tissue, then throw the tissue in a bin and wash your hands
Clean and disinfect frequently touched objects and surfaces in the home such as door handles, light switches and your kettle
Is the housing market busier than usual?
The housing market has been extremely busy since it first re-opened again in the middle of 2020, and this increased demand for property has continued into the first few days of 2021.
Monday 4th January was the busiest day on Rightmove since early September with over six million visits, meaning it was the busiest ever start to a year, and it's around 30% busier than at the start of 2020. So demand to move home is very much there, but it's crucial that everyone follows the latest advice so that everyone can move home safely.
Can estate agency offices remain open?
The government's official guidance says that estate agency offices can remain open to the public. Their guidelines suggest that estate agents agents should inform customers and their own staff about their Covid-19 procedures, so that they are safe throughout the sales process.
Here is a breakdown of the specific points:
Agents should ask whether any party is showing symptoms or has been asked to self-isolate before going ahead with any viewing, or visits to offices;
Agents should inform visitors to their offices of the need to wear face coverings. Agents should ensure their offices are 'Covid secure' and that they take appropriate measures to prevent the spread of the disease. Agents should wear face coverings while in close face-to-face contact with visitors and where other protective measures are unlikely to be in place, such as in clients' homes during a viewing. See guidance on face coverings;
Agents should strongly encourage clients to view properties virtually in the first instance and then only physically inspect properties which they have a strong interest in;
Where they do not accompany the visit, they should make sure that both buyers and sellers clearly understand how the viewing should be conducted safely;
Agents should avoid driving clients to appointments. Advise clients to find alternative means of travel including public transport, walking, cycling or using their own vehicle;
All parties viewing a property should wash their hands with soap and water (or hand sanitiser if not available) immediately after entering the properties, with internal doors opened and surfaces having been wiped down before they enter. Separate towels or paper towels should be used if possible and washed or disposed of safely after use;
Agents should do what they can to promote flexibility when arranging move dates, for example advising clients to ensure contracts have explicit terms to manage the timing risks presented by coronavirus;
Agents should work with their clients and other agents to broker a new date to move where sales are due to complete and one of the parties falls ill with coronavirus or has to self-isolate;
Agents should ensure that any keys are appropriately cleaned before handover;
Agents should ask clients whether they have returned to the UK from one of the countries not on the exception list. If clients have returned from a country on the quarantine list, agents can continue to progress their home move virtually until the quarantine period is over. See guidance on returning to the UK
Source: Rightmove Property News January 5th 2021